Demonstrations in the Young Building Booth # 1321 at the Equine Affaire, Please Stop By
EQUISTIX® is a muscle massager designed for your horse. The outer combs are soft and gel-like to roll smoothly along the large and hard-working muscles of your equine athlete.  You'll find EQUISTIX® is a user-friendly, safe and easy-to-use Equine Massage Tool.
About EQUISTIX® Equine Sports Massage Tool
EQUISTIX® is a professional quality Equine Sports Massage Therapy Tool. It's recommended and used by certified equine massage therapists. chiropractors and veterinarians.
A gentle rolling massage is something that you can learn to do for your own horse. Click HERE to see a video of Greg Gage, LMT/ESMT, show you how to introduce EQUISTIX® to your horse.
Taking care of your horse's muscles has never been easier. With EQUISTIX®, you'll be able to quickly and effectively warm-up muscles before a competition and then cool them down after a ride. It's fun to use, and you and your horse will love it!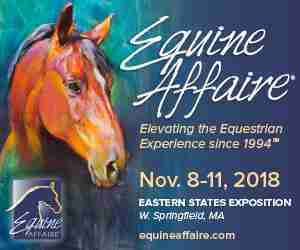 EQUISTIX® Demonstrations in Booth 1321 at the Equine Affaire
Equine Affaire is North America's premiere equine exposition and equestrian gathering with a unique celebration of the horse offering unparalleled educational, entertainment, and shopping!!!
November 8 to 11, 2018 at the Eastern States Expo in W. Springfield , MA. See you there!
Visit www.equineaffaire.com to learn more about the Equine Affaire