Give your horse the benefit of professional massage every day.
EQUISTIX® is a professional quality equine massage tool that is safe and effective, and rugged enough for everyday use. Use it as part of your daily warm-up and cool-down routines, during grooming, or any time your horse needs a little relief.
The benefits of massage are well known. However, it is difficult for most of us to manipulate a horse's muscles the way a professional therapist can. EQUISTIX® extends your reach and strength, making it possible to massage your horse as you never could before. It's safe and easy to use.
EQUISTIX® provides a precise massage that targets specific muscle groups and problem areas. It is convenient and practical for use at the barn, the show grounds, and even on the trail.
Valued by horse owners, trainers and therapeutic professionals alike, EQUISTIX® is a versatile tool. Horse owners use it to give their equine friends relief and comfort. Horse care practitioners use EQUISTIX® in their Equine Sports Massage Therapy (ESMT) and Equine Chiropractic practices.
Product Description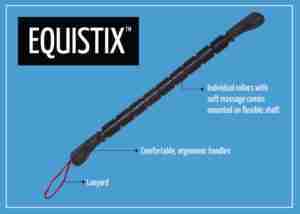 EQUISTIX® is designed and manufactured as a professional quality massage tool. It's affordable and easy to use.
At 29 inches long with large, comfortable, ergonomically designed handles, EQUISTIX® extends your reach and strength. The lanyard makes it handy to hold your EQUISTIX® and hang it for storage.
Nine individual rollers allow the massaging combs to rotate independently. With a flexible center shaft, these rollers can bend around the large contours of your horse. This creates a long contact area that adapts to the shape of your horse, providing a continuous and consistent interaction for maximum massaging benefit.
The massaging combs are made of a thermoplastic elastomer with a soft, gel-like feeling. The supple nubs penetrate your horse's coat with thousands of tiny "fingers" that massage the skin and the muscles beneath for the best massaging action and comfort.
EQUISTIX® is manufactured from high quality, high grade materials. With proper use and care it will last a lifetime.