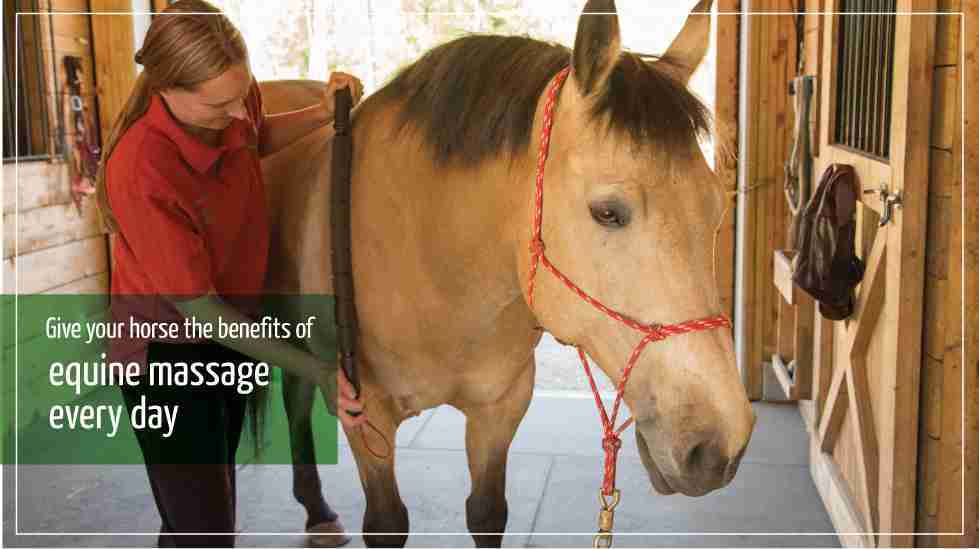 Massage Your Horse
EQUISTIX® is a muscle massager designed for your horse. The outer combs are soft and gel-like to roll smoothly along the large and hard-working muscles of your equine athlete.
Have you thought about your horse's skeletal muscles lately? Your horse has over 700 of them. A primary function of skeletal muscles is to create movement, yet, we may overlook preparing those strong muscles for exercise.
You'll find EQUISTIX® to be a user-friendly, self-help Equine Massage Tool. With it's gentle rolling massage technique, you'll invigorate muscles with fresh, oxygen-rich blood helping to improve performance and reduce the risk of injury.
EQUISTIX® is the leading massage tool for performance horses
EQUISTIX® is a professional quality Equine Sports Massage Therapy Tool (ESMT). It's recommended and used by certified equine massage therapists. chiropractors and veterinarians. Click HERE to see a video of Greg Gage, LMT/ESMT, introduce EQUISTIX® to Stretch.
A gentle rolling massage is something that you can learn to do for your own horse; anytime, anywhere. Taking care of your horse's muscles has never been easier. With EQUISTIX®, you'll be able to quickly and effectively warm-up muscles before a competition and then cool them down after a ride. It's fun to use, and you and your horse will love it!
We offer a 30-day Money Back Guarantee. If you're not completely satisfied with EQUISTIX® within 30 days of purchase, you can return it for a full price refund, less shipping costs.
Visit EQUISTIX® at the vendor booths in Barn C to learn more about massaging your own horse.
The AQHA Region Six Super Show Series & Novice Regional Championship Show takes place from July 17 – 22, 2018 at the Eastern States Expo in W. Springfield, MA.
EQUISTIX® will be available each day from 3:00pm to 7:00pm for demonstration and purchase at our vendor booth in Barn C.
About Region 6 AQHA
The AQHA Region Six brings together the Northeast Affiliates states Maine, Massachusetts, Connecticut, Vermont, New Hampshire, Rhode Island. It also includes our friends to the north; the Maritimes and Quebec.
Founded in 1997, the AQHAR6 is a voluntary confederation of AQHA recognized affiliates within Region 6.  The affiliates take a regional approach to supporting and promoting the American Quarter Horse breed, equine education, leadership and public policy.
We hope to see you there and best wishes to all riders!
Visit www.aqhar6.com to learn more about Region 6 AQHA
Visit www.aqha.com to learn more about the American Quarter Horse Association
Visit www.therasageemc.com to learn more about equine massage certification
Visit www.swiftriverchiropractic.com to learn more about Dr. Bethany Bowman, DC